Terms and Conditions
Pearson Prentice Hall, Pearson Education, Inc.
YOU SHOULD CAREFULLY READ THE TERMS AND CONDITIONS BEFORE USING THE SOFTWARE. USING THIS SOFTWARE INDICATES YOUR ACCEPTANCE OF THESE TERMS AND CONDITIONS.
Pearson Education, Inc. provides this program and licenses its use. You assume responsibility for the selection of the program to achieve your intended results, and for the installation, use, and results obtained from the program. This license extends only to use of the program in the United States or countries in which the program is marketed by authorized distributors.
LICENSE GRANT
You hereby accept a nonexclusive, nontransferable, permanent license to install and use the program ON A SINGLE COMPUTER at any given time. You may copy the program solely for backup or archival purposes in support of your use of the program on the single computer. You may not modify, translate, disassemble, decompile, or reverse engineer the program, in whole or in part.
TERM
The License is effective until terminated. Pearson Education, Inc. reserves the right to terminate this License automatically if any provision of the License is violated. You may terminate the License at any time. To terminate this License, you must return the program, including documentation, along with a written warranty stating that all copies in your possession have been returned or destroyed.
LIMITED WARRANTY
THE PROGRAM IS PROVIDED "AS IS" WITHOUT WARRANTY OF ANY KIND, EITHER EXPRESSED OR IMPLIED, INCLUDING, BUT NOT LIMITED TO, THE IMPLIED WARRANTIES OR MERCHANTABILITY AND FITNESS FOR A PARTICULAR PURPOSE. THE ENTIRE RISK AS TO THE QUALITY AND PERFORMANCE OF THE PROGRAM IS WITH YOU. SHOULD THE PROGRAM PROVE DEFECTIVE, YOU (AND NOT PEARSON EDUCATION, INC. OR ANY AUTHORIZED DEALER) ASSUME THE ENTIRE COST OF ALL NECESSARY SERVICING, REPAIR, OR CORRECTION. NO ORAL OR WRITTEN INFORMATION OR ADVICE GIVEN BY PEARSON EDUCATION, INC., ITS DEALERS, DISTRIBUTORS, OR AGENTS SHALL CREATE A WARRANTY OR INCREASE THE SCOPE OF THIS WARRANTY.
SOME STATES DO NOT ALLOW THE EXCLUSION OF IMPLIED WARRANTIES, SO THE ABOVE EXCLUSION MAY NOT APPLY TO YOU. THIS WARRANTY GIVES YOU SPECIFIC LEGAL RIGHTS AND YOU MAY ALSO HAVE OTHER LEGAL RIGHTS THAT VARY FROM STATE TO STATE.
Pearson Education, Inc. does not warrant that the functions contained in the program will meet your requirements or that the operation of the program will be uninterrupted or error-free.
However, Pearson Education, Inc. warrants the disc(s) on which the program is furnished to be free from defects in material and workmanship under normal use for a period of ninety (90) days from the date of delivery to you as evidenced by a copy of your receipt.
The program should not be relied on as the sole basis to solve a problem whose incorrect solution could result in injury to person or property. If the program is employed in such a manner, it is at the user's own risk and Pearson Education, Inc.. explicitly disclaims all liability for such misuse.

<![if !supportLineBreakNewLine]>
<![endif]>
LIMITATION OF REMEDIES
Pearson Education, Inc.'s entire liability and your exclusive remedy shall be:
1. the replacement of any disc not meeting Pearson Education, Inc.'s "LIMITED WARRANTY" and that is returned to Pearson Education, Inc., or
2. if Pearson Education, Inc. is unable to deliver a replacement disc that is free of defects in materials or workmanship, you may terminate this agreement by returning the program.
IN NO EVENT WILL PEARSON EDUCATION, INC. BE LIABLE TO YOU FOR ANY DAMAGES, INCLUDING ANY LOST PROFITS, LOST SAVINGS, OR OTHER INCIDENTAL OR CONSEQUENTIAL DAMAGES ARISING OUT OF THE USE OR INABILITY TO USE SUCH PROGRAM EVEN IF PEARSON EDUCATION, INC. OR AN AUTHORIZED DISTRIBUTOR HAS BEEN ADVISED OF THE POSSIBILITY OF SUCH DAMAGES, OR FOR ANY CLAIM BY ANY OTHER PARTY.
SOME STATES DO NOT ALLOW FOR THE LIMITATION OR EXCLUSION OF LIABILITY FOR INCIDENTAL OR CONSEQUENTIAL DAMAGES, SO THE ABOVE LIMITATION OR EXCLUSION MAY NOT APPLY TO YOU.
GENERAL
You may not sublicense, assign, or transfer the license of the program. Any attempt to sublicense, assign or transfer any of the rights, duties, or obligations hereunder is void.
This Agreement will be governed by the laws of the State of New York.
Should you have any questions concerning this Agreement, you may contact Pearson Education, Inc. by writing to:
Electrical Engineering Editor
Higher Education Division
Pearson Education, Inc.
1 Lake Street
Upper Saddle River, NJ 07458
Should you have any questions concerning technical support, you may write to:
Engineering Media Production
Higher Education Division
Pearson Education, Inc.
1 Lake Street
Upper Saddle River, NJ 07458
YOU ACKNOWLEDGE THAT YOU HAVE READ THIS AGREEMENT, UNDERSTAND IT, AND AGREE TO BE BOUND BY ITS TERMS AND CONDITIONS. YOU FURTHER AGREE THAT IT IS THE COMPLETE AND EXCLUSIVE STATEMENT OF THE AGREEMENT BETWEEN US THAT SUPERSEDES ANY PROPOSAL OR PRIOR AGREEMENT, ORAL OR WRITTEN, AND ANY OTHER COMMUNICATIONS BETWEEN US RELATING TO THE SUBJECT MATTER OF THIS AGREEMENT.
Getting Started


Student Resources
Instructor Resources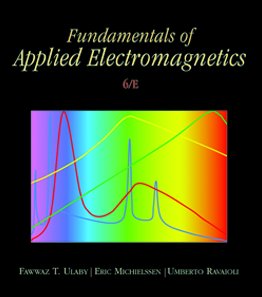 Fawwaz Ulaby
University of Michigan
Eric Michielssen
University of Michigan
Umberto Ravaioli
University of Illinois
Language: English
ISBN(10): 0132139316
ISBN(13): 9780132139311