Author Biography
Umberto Ravaioli:

Professor Ravaioli attended the University of Bologna, Italy, where he obtained degrees in Electronics Engineering and Physics. He conducted his dissertation work on fiber optics and microwaves at the laboratories of the Marconi Foundation in Villa Griffone, the summer estate where Guglielmo Marconi performed his first radio experiments. After developing interests in high speed semiconductor devices and large scale computation, he pursued a Ph.D. in Electrical Engineering at Arizona State University, where he developed Monte Carlo particle simulations for the high electron mobility transistor.
He joined the Department of Electrical and Computer Engineering of the University of Illinois at Urbana-Champaign in 1986. He was a co-founder of the National Center for Computational Electronics, which promoted for over a decade the development of large scale device simulation by leveraging resources at national supercomputing centers. His research group has developed Monte Carlo and quantum simulators for a wide range of semiconductor device applications, expanding recent activities to charge transport in biological systems, coupled electro-thermal simulation, and nanoelectronics. He is now the leader of the Computational Multiscale Nanosystems group at the Beckman Institute of the University of Illinois and is also serving as Senior Assistant Dean for Undergraduate Programs in the College of Engineering.
Professor Ravaioli is a Fellow of the Institute of Electrical and Electronic Engineers (IEEE) and a Fellow of the Institute of Physics (IOP). He received the First Place Outstanding Paper Award at the 2007 IEEE International Conference on Electron Information Technology for his recent work on electro-thermal simulation.
Getting Started


Student Resources
Instructor Resources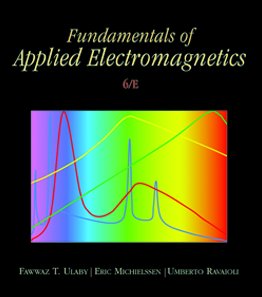 Fawwaz Ulaby
University of Michigan
Eric Michielssen
University of Michigan
Umberto Ravaioli
University of Illinois
Language: English
ISBN(10): 0132139316
ISBN(13): 9780132139311